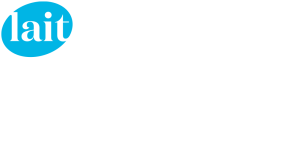 DAY 2
Loop around Nicolet
Today, it's loop day around our village of Nicolet, for what promises to be one of the most beautiful Saturdays of the summer! There are several loops of varying distances to choose from, whether you prefer to enjoy the village, or rather maximize the day's kilometers!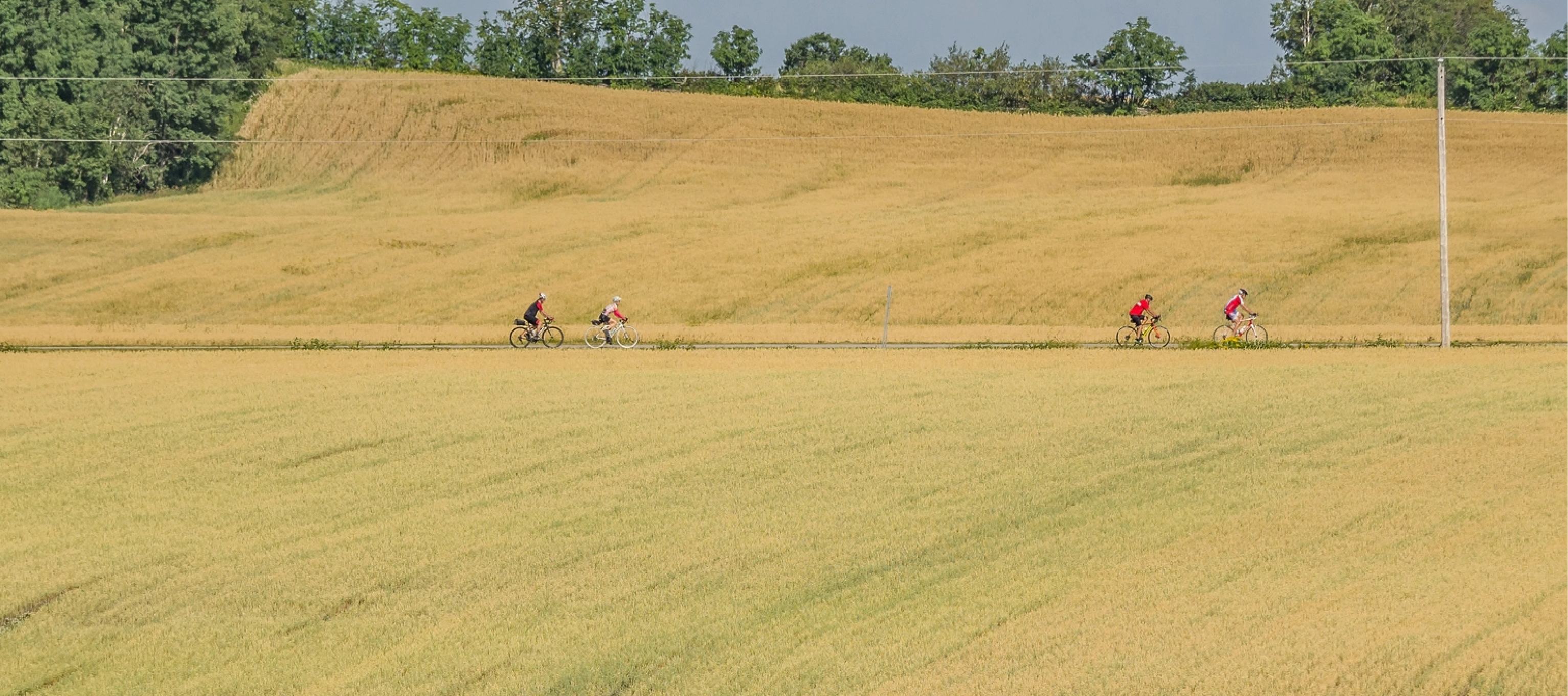 Headlines
Our partners' activities
Vélo Québec is proud to count Lait as a presenting partner of La Petite Aventure. Enjoy a good chocolate milk to help you recover after the effort when you arrive at the Village.
Come and try out several outdoor games (spikeball, badminton, arrow bow and Finnish bowling) supplied by Décathlon!
The Décathlon boutique will also be on hand to offer a wide range of sporting goods.
Visit the Eye Am truck to see the latest trends in sunglasses, so you can look your best on your bike!
At the finish line, enjoy a well-deserved chocolate milk, courtesy of Le Lait, plus another surprise!
Get your hands on the new Vélo Québec t-shirts and hoodies at our Village Boutique between 1 pm and 8 pm.
If you'd like to book a massage after your day's cycling, drop by our massage therapist's kiosk in the village before you hit the road to reserve your time.
If you have any questions, unforeseen circumstances or last-minute changes, come and see us at the INFO Vélo Québec booth. It will be open from 6:30 a.m. to 8:00 p.m.
If you take part in the Tour d'un Jour, free parking is available in the village of Nicolet for the day.
For emergencies, please contact us at 514 292-8356 or pa@velo.qc.ca.
Day by day cycling itinerary
On the road
Today, it's loop day around Nicolet! Your regular route will allow you to enjoy the magnificent views of the Nicolet River and the St. Lawrence River on the first part of the loop. If you feel like making the most of the day and stopping off along the way, you've got plenty of options. For lovers of beautiful scenery, a stop on the footbridge of the Parc Écomaritime de l'Anse-du-Port is a must!
See the regular route on :
Two options, depending on the weather* :
Nice weather: École Beauséjour (18000 Rue Béliveau, Bécancour, QC G9H 1H4), with water games for young and old!

In case of rain, the lunch stop will be located at Centre culturel Larochelle - 4000 Bd de Port Royal, Bécancour, QC G9H 1Y9.
*consult us at the INFO booth before setting off to confirm the location of the lunch stop
Optional route 1, +19.9 km
This first optional ride of the day offers you the chance to add to your day's total with a pass on the picturesque Chemin Héon, where you'll ride on a quiet road through fields, with a view of Lac Saint-Paul. If you're feeling lucky, you'll come across the Grand Royal Wôlinak casino. Be careful, gamble in moderation!
See optional route 1 on :
Optional route 2, +28.4 km
The second option of the day offers a leisurely route with a beautiful view of the Bécancourt River. While there are a few valleys, it's well worth climbing them to enjoy the beautiful panoramas offered on this option. One of the optional routes not to be missed on this Petite Aventure!
See optional route 2 on :
Optional route 3, +16.7 km
Here's an optional feature just for riders! We're offering you even more beautiful country roads, perfect for cyclists who want to top up their Strava account with extra kilometers at the end of the route.
See optional route 3 on :
Loop 1 - 16 km (-26.6 km)
This short loop allows you to ride the most beautiful section of the day's route, while maximizing the potential of the rest of your day. Whether you want to fraternize in the village, take a dip in the indoor pool at the École nationale de police du Québec, or catch an afternoon movie at the village cinema, this route will let you do as much as you can!
See loop 1 on :
Loop 2 - 24 km (-18.6 km)
This second loop, like the first, allows you to enjoy the course while leaving enough time to discover local attractions. Gourmets will find a snack bar, a creamery and a microbrewery along the way.
See loop 2 on :
In the village
Once you've arrived at the Village in the beautiful town of Nicolet, you'll find all kinds of activities on offer. Whether you're looking to unwind, have a drink or take your mind off things, we've got you covered!
Tonight in the village, you can :
Try out our Cyclomini course from 1 pm to 7 pm (2 to 8 years)
Play in our inflatable games from 1 p.m. to 9 p.m.
Enjoy a massage therapy session between 2 p.m. and 10 p.m.
Try out over 30 games offered by Sociojeux from 3 p.m. to 9 p.m.
Have a drink (or two, or three... ) at the bistro between 3 p.m. and 10:30 p.m.
Come and stretch your muscles in free yoga sessions at 9 a.m. and 4 p.m. (you must bring your own yoga mat).
Be amazed by science at the chemistry show between 5 and 6 p.m.
Relax before a short film in the village auditorium. Here's today's schedule:

12:00 p.m.: Super Mario Bros
1:45 p.m.: The Minions 2: Once upon a time there was Gru
6:45pm: Buzz Lightyear
8:45 p.m.: Spider-Man: No Return

Vibrate to the sounds of the band Patry et Rodriguez from 7:30 p.m. to 9:30 p.m.
End the evening in the Bistro with our DJ from 9:30 to 10:30 p.m.
Menu of the day
Lunch :
Cereals: hot oatmeal, granola, Rice Krispies
Grapes, cranberries, brown sugar
Assorted yogurts and soy milk yogurt
Breakfast potatoes, beans without bacon, cheese and vegetable omelette, veggie pâté
Croissants
Strawberry jam, butter
Banana and orange
Orange juice and 2% milk, coffee, tea, herbal tea, hot chocolate
Dinner :
Chicken poké bowl: rice and salad, grilled chicken, cucumbers, carrots, edamame, mango, ranch dressing
Le Moine cheese
Chocolate cookies
Orange
200 ml juice, electrolyte, coffee, tea, herbal tea
Dinner :
Crecy soup
Beet, watercress and spinach salad with poppy vinaigrette
Homemade broccoli and cheddar sausages or forest-style chicken supreme
White and wild rice mix
Honey-glazed carrot stalks
Ciabatta white
Chocolate crisp
Cantaloupe
Lemonade, 2% milk, coffee, tea, herbal tea, hot chocolate
Lunch :
Cereals: hot oatmeal, granola, Rice Krispies
Grapes, cranberries, brown sugar
Breakfast potatoes, beans without bacon, cheese and vegetable omelette, veggie pâté
Breakfast potatoes, beans, vegan eggs, veggie pâté
Croissants
Strawberry jam, butter
Banana and orange
Orange juice, coffee, tea, herbal tea, hot chocolate
Dinner :
Poké bowl with tofu: rice and salad, marinated tofu, cucumbers, carrots, edamame, mango, ranch dressing
Chocolate cookies
Orange
200 ml juice, electrolyte, coffee, tea, herbal tea
Dinner :
Crecy soup
Beet, watercress and spinach salad with poppy vinaigrette
Vegetable samosas or squash curry
White and wild rice mix
Honey-glazed carrot stalks
Ciabatta white
Chocolate crisp
Cantaloupe
Lemonade, coffee, tea, herbal tea
Lunch :
Grapes, cranberries, brown sugar
Breakfast potatoes, beans without bacon, cheese and vegetable omelette, veggie pâté
Strawberry jam, butter
Banana and orange
Orange juice, coffee, tea, herbal tea, hot chocolate
Dinner :
Chicken poké bowl: rice and salad, grilled chicken, cucumbers, carrots, endamame, mango, ranch dressing
Orange
200 ml juice, electrolyte, coffee, tea, herbal tea
Dinner :
Crecy soup
Beet, watercress and spinach salad with poppy vinaigrette
Poultry without sauce
Honey-glazed carrot stalks
Cantaloupe
Lemonade, coffee, tea, herbal tea